Next to worry probably one of the most potent causes of unhappiness is envy. Envy is, I should say, one of the most universal and deep-seated of human passions. It is very noticeable in children before they are a year old, and has to be treated with the most tender respect by every educator. The very slightest appearance of favoring one child at the expense of another is instantly observed and resented. Distributive justice, absolute, rigid, and unvarying, must be observed by anyone who has children to deal with. But children are only slightly more open in their expressions of envy, and of jealousy (which is a special form of envy), than are grown-up people. The emotion is just as prevalent among adults as among children. Take, for example, maid-servants: I remember when one of our maids, who was a married woman, became pregnant, and we said that she was not to be expected to lift heavy weights, the instant result was that none of the others would lift heavy weights, and any work of that sort that needed doing we had to do ourselves.
Envy is the basis of democracy. Heraclitus asserts that the citizens of Ephesus ought all to be hanged because they said, 'there shall be none first among us'. The democratic movement in Greek States must have been almost wholly inspired by this passion. And the same is true of modern democracy. There is, it is true, an idealistic theory according to which democracy is the best form of government. I think myself that this theory is true. But there is no department of practical politics where idealistic theories are strong enough to cause great changes; when great changes occur, the theories which justify them are always a camouflage for passion. And the passion that has given driving force to democratic theories is undubtedly the passion of envy. Read the memoirs of Madame Roland, who is frequently represented as a noble woman inspired by devotion to the people. You will find that what made her such a vehement democrat was the experience of being shown into the servants' hall when she had occasion to visit an aristocratic chateau.
Among average respectable women envy plays an extraordinarily large part. If you are sitting in the underground and a well-dressed woman happens to walk along the car, watch the eyes of the other women. You will see that every one of then, with the possible exception of those who are better dressed, will watch the woman with malevolent glances, and will be struggling to draw inferences derogatory to her. The love of scandal is an expression of this general malevolence: any story against another woman is instantly believed, even on the flimsiest evidence. A lofty morality serves the same purpose: those who have a chance to sin against it are envied, and it is considered virtuous to punish them for their sins. This particular form of virtue is certainly its own reward.
Exactly the same thing, however, is to be observed among men, except that women regard all other women as their competitors, whereas men as a rule only have this feeling towards other men in the same profession. Have you, reader, ever been so imprudent as to praise an artist to another artist? Have you ever praised a politician to another politician of the same party? Have you ever praised an Egyptologist to another Egyptologist? If you have, it is a hundred to one that you will have produced an explosion of jealousy.
In the correspondence of Leibniz and Huyghens there are a number of letters lamenting the supposed fact that Newion had become insane. 'Is it not sad,' they write to each other, 'that the incomparable genius of Mr Newton should have become overclouded by the loss of reason?' And these two eminent men, in one letter after another, wept crocodile tears with obvious relish. As a matter of fact, the event which they were hypocritically lamenthg had not taken place, though a few examples of eccentric behaviour had given rise to the rumour.
Of all the characteristics of ordinary human nature envy is the most unfortunate; not only does the envious person wish to inflict misfortune and do so whenever he can with impunity, but he is also himself rendered unhappy by envy. Instead of deriving pleasure from what he has, he derives pain from what others have. If he can, he deprives others of their advantages, which to him is as desirable as it would be to secure the same advantages himself. If this passion is allowed to run riot it becomes fatal to all excellence, and even to the most useful exercise of exceptional skill. Why should a medical man go to see his patients in a car when the labourer has to walk to his work? Why should the scientific investigator be allowed to spend his time in a warm room when others have to face the inclemency of the elements? Why should a man who possesses some rare talent of great importance to the world be saved from the drudgery of his own housework? To such questions envy finds no answer. Fortunately, however, there is in human nature a compensating passion, namely that of admiration. Whoever wishes to increase human happiness must wish to increase admiration and to diminish envy.
What cure is there for envy? For the saint there is the cure of selflessness, though even in the case of saints envy of other saints is by no means impossible. I doubt whether St Simeon Stylites would have been wholly pleased if he had learnt of some other saint who had stood even longer on an even narrower pillar. But, leaving saints out of account, the only cure for envy in the case of ordinary men and women is happiness, and the difficulty is that envy is itself a terrible obstacle to happiness. I think envy is immensely promoted by misfortunes in childhood. The child who finds a brother or sister preferred before himself acquires the habit of envy, and when he goes out into the world looks for injustices of which he is the victim, perceives them at once if they occur, and imagines them if they do not. Such a man is inevitably unhappy, and becomes a nuisance to his friends, who cannot be always remembering to avoid imaginary slights. Havilng begun by believing that no one likes him, he at last by his behaviour makes his belief true. Another misfortune in childhood which has the same result is to have parents without much parental feeling. Without having an unduly favoured brother or sister, a child may perceive that the children in other families are more loved by lheir mother and father than he is. This will cause him to hate the other children and his own parents, and when he grows up he will feel himself an Ishmael. Some kinds of happiness are everyone's natural birthright, and to be deprived of them is almost inevitably to become warped and embittered.
But the envious man may say: 'What is the good of telling me that the cure for envy is happiness? I cannot find happiness while I continue to feel envy, and you tell me that I cannot cease to be envious until I find happiness.' But real life is never so logical as this. Merely to realize the causes of one's own envious feelings is to take a long step towards curing them. The habit of thinking in terms of comparisons is a fatal one. When anything pleasant occurs it should be enjoyed to the fun, without stopping to think that it is not so pleasant as something else that may possibly be happening to someone else.
'Yes,' says the envious man, 'this is a sunny day, and it is springtime, and the birds are singing, and the flowers are in bloom, but I understand that the springtime in Sicily is a thousand tirnes more beautiful, that the birds sing more exquisitely in the groves of Helicon, and that the rose of Sharon is more lovely than any in my garden.' And as he thinks these thoughts the sun is dimmed, and the birds' song becomes a meaningless twitter, and the flowers seem not worth a moment's regard. All the other joys of life he treats in the same way. 'Yes,' he will say to himself, 'the lady of my heart is lovely, I love her and she loves me, but how much more exquisite must have been the Queen of Sheba! Ah, if I had but had Solomon's opportunities! '
All such comparisons are pointless and foolish; whether the Queen of Sheba or our next-door neighbor be the cause of discontent, either is equally futile. With the wise man, what he has does not cease to be enjoyable because someone else has something else. Envy, in fact, is one form of a vice, partly moral, partly intellectual, which consists in seeing things never in themselves, but only in their relations. I am earning, let us say, a salary sufficient for my needs. I should be content, but I hear that someone else whom I believe to be in no way my superior is earning a salary twice as great as mine. Instantly, if I am of an envious disposition, the satisfactions to be derived from what I have grow dim, and I begin to be eaten up with a sense of injustice.
For all this the proper cure is mental discipline, the habit of not thinking profitless thoughts. After all, what is more enviable than happiness? And if I can cure myself of envy I can acquire happiness and become enviable. The man who has double my salary is doubtless tortured by the thought that someone else in turn has twice as much as he has, and so it goes on. If you desire glory, you may envy Napoleon. But Napoleon envied Caesar, Caesar envied Alexander, and Alexander, I daresay, envied Hercules, who never existed. You cannot, therefore, get away from envy by means of success alone, for there will always be in history or legend some person even more successful than you are. You can get away from envy by enjoying the pleasures that come your way, by doing the work that you have to do, and by avoiding comparisons with those whom you imagine, perhaps quite falsely, to be more fortunate than ourselves.
Unnecessary modesty has a great deal to do with envy. Modesty is considered a virtue, but for my part I am very doubtful whether, in its more extreme forms, it deserves to be so regarded. Modest people need a great deal of reassuring, and often do not dare to attempt tasks which they are quite capable of performing. Modest people believe themselves to be outshone by those with whom they habitually associate. They are therefore particularly prone to envy, and, through envy, to unhappiness and ill will.
For my part, I think there is much to be said for bringing up a boy to think himself a fine fellow. I do not believe that any peacock envies another peacock his tail, because every peacock is persuaded that his own tail is the finest in the world. The consequence of this is that peacocks are peaceable birds. Imagine how unhappy the life of a peacock would be if he had been taught that it is wicked to have a good opinion of oneself. Whenever he saw another peacock spreading out his tail, he would say to himself:
'I must not imagine that my tail is better than that, for that would be conceited, but oh, how I wish it were! That odious bird is so convinced of his own magnificence! Shall I pull out some of his feathers? And then perhaps I need no longer fear comparison with him.'
Or perhaps he would lay a trap for him, and prove that he was a wicked peacock who had been guilty of unpeacockly behaviour, and he would denounce him to the assembly of the leaders. Graduauy he would establish the principle that peacocks with specially fine tails are almost always wicked, and that the wise ruler in the peacock kingdom would seek out the humble bird with only a few draggled tail feathers. Having got this principle accepted, he would get all the finest birds put to death, and in the end a really splendid tail will become only a dim memory of the past. Such is the victory of envy masquerading as morality. But where every peacock thinks himself more splendid than any of the others, there is no need for all this repression. Each peacock expects to win the first prize in the competition, and each, because he values his own peahen, believes that he has done so.
Envy is, of course, closely connected with competition. We do not envy a good fortune which we conceive as quite hopelessly out of our reach. In an age when the social hierarchy is fixed, the lowest classes do not envy the upper classes so long as the division between rich and poor is thought to be ordained by God. Beggars do not envy millionaires, though of course they will envy other beggars who are more successful. The instability of social status in the modern world, and the equalitarian doctrine of democracy and socialism, have greatly extended the range of envy. For the moment this is an evil, but it is an evil which must be endured in order to arrive at a more just social system. As soon as inequalities are thought about rationally they are seen to be unjust unless they rest upon some superiority of merit. And as soon as they are seen to be unjust, there is no remedy for the resulting envy except the removal of the injustice. Our age is therefore one in which envy plays a peculiarly large part. The poor envy the rich, the poorer nations envy the richer nations, women envy men, virtuous women envy those who, though not virtuous, remain unpunished. While it is true that envy is the chief motive force leading to justice as between different classes, different nations, and different sexes, it is at the same time true that the kind of justice to be expected as a result of envy is likely to be the worst possible kind, namely that which consists rather in diminishing the pleasures of the fortunate than in increasing those of the unfortunate. Passions which work havoc in private life work havoc in public life also. It is not to be supposed that out of something as evil as envy good results will flow. Those, therefore, who from idealistic reasons desire profound changes in our social system, and a great increase of social justice, must hope that other forces than envy will be instrumental in bringing the changes about.
All bad things are interconnected, and any one of them is liable to be the cause of any other; more particularly fatigue is a very frequent cause of envy. When a man feels inadequate to the work he has to do, he feels a general discontent which is exceedingly liable to take the form of envy towards those whose work is less exacting. One of the ways of diminishing envy, therefore, is to diminish fatigue. But by far the most important thing is to secure a life which is satisfying to instinct. Much envy that seems purely professional really has a sexual source. A man who is happy in his marriage and his children is not likely to feel much envy of other men because of their greater wealth or success, so long as he has enough to bring up his children in what he feels to be the right way. The essentials of human happiness are simple, so simple that sophisticated people cannot bring themselves to admit what it is they really lack. The women we spoke of earlier who look with envy on every well-dressed woman are, one may be sure, not happy in their instinctive life. Instinctive happiness is rare in the English-speaking world, especially among women. Civilization in this respect appears to have gone astray. If there is to be less envy, means must be found for remedying this state of affairs, and if no such means are found our civilization is in danger of going down to destruction in an orgy of hatred,
In old days people only envied their neighbors, because they knew little about anyone else. Now through education and the Press they know much in an abstract way about large classes of mankind of whom no single individual is among their acquaintance. Through the movies they think they know how the rich live, through the newspapers they know much of the wickedness of foreign nations, through propaganda they know of the nefarious practices of all whose skin has a pigmentation different from their own. Yellows hate whites, whites hate blacks, and so on. All this hatred, you may say, is stirred up by propaganda, but this is a somewhat shallow explanation. Why is propaganda so much more successful when it stirs up hatred than when it tries to stir up friendly feeling? The reason is clearly that the human heart as modern civilization has made it is more prone to hatred than to friendship. And it is prone to hatred because it is dissatisfied, because it feels deeply, perhaps even unconsciously, that it has somehow missed the meaning of life, that perhaps others, but not we ourselves, have secured the good things which nature offers man's enjoyment. The positive sum of pleasures in a modern man's life is undoubtedly greater than was to be found in more primitive communities, but the consciousness of what might be has increased even more.
Whenever you happen to take your children to the Zoo you may observe in the eyes of the apes, when they are not performing gymnastic feats or cracking nuts, a strange strained sadness. One can almost imagine that they feel they ought to become men, but cannot discover the secret of how to do it. On the road of evolution they have lost their way; their cousins marched on and they were left behind. Something of the same strain and anguish seems to have entered the soul of civilized man. He knows there is something better than himself almost within his grasp, yet he does not know where to seek it or how to find it. In despair he rages against his fellow man, who is equally lost and equally unhappy.
We have reached a stage in evolution which is not the final stage. We must pass through it quickly, for if we do not, most of us will perish by the way, and the others will be lost in a forest of doubt and fear. Envy therefore, evil as it is, and terrible as are its effects, is not wholly of the devil. It is in part the expression of an heroic pain, the pain of those who walk through the night blindly, perhaps to a better resting-place, perhaps only to death and destruction. To find the right road out of this despair civilized man must enlarge his heart as he has enlarged his mind. He must learn to transcend self, and in so doing to acquire the freedom of the Universe.
Chapter 6: Envy
------------------------------------------------------------------------
愛の対極にあるのは憎しみではない。無関心である。美の対極
にあるのは醜さではない。無関心である。知の対極にあるのは
無知ではない。それもまた無関心てある。平和の対極にあるの
は戦争ではない。無関心である。生の対極にあるのは死ではな
い。無関心、生と死に対する無関心である。
------------------------------------------------------------------------
エリ・ヴィーゼル(作家)
 ひとりの旅人がその地方髄一の深い森で道に迷った。何時間
ものあいだ、出口を探すが見つからない。ひとつの手かがりも
、ひとつの道しるべも、どこにもなにもない。タ闇が落ち、旅
人は恐怖に駆られる。次々と悪夢にうなされる落ち着かぬ夜。
夜明け、旅人は飛び起きる。人間の姿を見かけたのだ。感謝の
しるしに持ち物すべてをあたえるつもりで、旅人はその男に駆
け寄る。「ありがとう、ここにいてくれてありがとう。神があ
なたを遣わされたのです。さあ、森の出口を教えてください」
。しかし、男は頭を振って言う。「あなたと同じように、わた
しもここで道に迷ったのです」。それから、憂いに満ちた微笑
を浮かべ、自分の後ろの小道を指さす画「わたしがあなたにお
教えできるのはただひとつ。この道をいくなということ。わた
しはそちらからきたのです」
 これが、あす、誕生しようとしている21世紀にわたしたち
が伝えるべきメッセージなのだろうか?
 わたしたちが別れを告げつつある世紀を、アメリカのユダヤ
人哲学者ハンナ・アーレントは、いみじくも史上「もっとも暴
力的な」世紀と呼んだ。これほど多くの死者を、これほど多く
の幻想を埋葬した世紀はほかにはない。
 ふたつの全体主義的イデオロギー、ふたつの世界大戦、数多
くの内戦と地域紛争、政治的次元の、人種的次元の、経済的次
元の対立、国民的規模の屈辱、狂信的粛清と人種浄化‐‐そし
てこれら惨事の向こうに、これらを超えたところに、これらと
は比較にならぬほどの、ヒロシマの巨大な悲劇とアウシュヴィ
ッツという名の絶対悪…。
  いけない。もはや過去にもどってはならない。それは、人
間の愚かしい権力奪取、ユダヤ人排斥・外国人排斥的性格を有
する数々の試行錯誤、壮大な試み−−そこに必然する論理は苦
悩と死へと帰結する−−を再開することによって、人間の破壊
的な卑しき情熱を称揚する以外になんの役にも立たない。いか
なる領域においても、神のものであろうと人間のものであろう
といかなる権威のもとでも、目的は手段を正当化しない。人間
は決してひとつの手段ではない。
 あすの人間は、この生死にかかわる重要な教訓、つまり人間
が生きること、そしてその生にひとつの意味をあたえることを
助けるはずの教訓を学びとるだろうか?あすの人間の幸福はわ
たしたちの幸福よりも真であり、より確実に継続するだろうか
?その希望はより純粋であり、より真であり、他人の希望を犠
牲にすることはないだろうか?
 1945年、逆説的ではあるが、わたしたちは楽観主義者だ
った。わたしたちは考えた。廃虚と灰とにおおわれ、手足をも
がれ、喪の悲しみに沈む人類は、ついにその行動の基本原則を
理解した、と。それは人類の倫理的広がり、言いかえれば人間
とその同胞との関係に内在する。学者たちに自らの責任を自覚
させるには、ヒロシマの名を口にするだけで充分だろう。愛と
友情に渇く男や女が、自分たちの周囲いたるところにある憎し
みを沈黙させるには、アウシュヴィッツの夜を染める炎のこと
をもち出すだけで充分だろう。そうすれば、どこかで重大な過
ちが、不幸な逸脱が犯されたという重苦しい感覚が、わたした
ちの-なかに生まれるだろう、とわたしたちは考えたのである
。わたしたちはあまりにも無邪気だったのか?人間を信頼した
のは間違いだったのか?人間は死を、その犠牲者たちに忠実で
いることによって克服できるだろうと主張したのは間違いだっ
たのか?
すべての胸張り裂ける悲しみ
 半世紀後のいまもなお、複数の大陸において、貧困が、飢餓
が、無知が、不寛容が、踏みにじられた無垢が、不治の病が、
疫病が、祖国追放が、離散家族が、腹を空かせた子供たちが、
疲れ切った老人たちが、大量殺戮が、戦争(1945年以降に
70以上の戦争)が存在する。これらすべての胸張り裂ける悲
しみをどう説明すればよいのか?そしてそれらに対する無関心
を?想像力の不足、あるいは過剰の結果なのか?おそらくは記
憶の?終末論的大団円、文明の終焉、つまり人類の終焉への幻
惑?歴史に墓をうがちながら歴史を通り過ぎ続けている、あの
さまざまな貌をもつ殺戮の狂気をどう説明すればよいのか?
 だが、しかしながら。物理科学、テクノロジー、コミュニケ
ーション、医学の諸分野で、人間の精神は多くの奇蹟を成し遂
げた。驚くべき発見がなされた。人間は宇宙空間を歩き、銀河
系を数え、大胆にも宇宙の年齢を計測し、平和のために原子を
破壊する。同時に、個体の段階では心臓と脳の機能を観察し、
それを保護する‐−つまり、寿命を延長する。しかし……ひと
たびこの目的が達せられると、人はもはやそれをどうしたらよ
いのかわからない。老人は唐突に地位を追われる。若さのもつ
活力と美とに完全に魅了され、それだけに関心をもつ社会から
拒否されて、老人は自らを役立たずと感じる。よけいなものだ
、と。
 このどこに正義がある?そして、思いやりの心が?
 とは言うものの、真実を尊重して、次のことを銘記しておこ
う。いま終わろうとしている20世紀はまた、偉大なる高揚と
光の瞬間をも経験してきたのである。
 今世紀の前半はファシズムとナチズムの敗北を、後半はソヴ
ィエト共産主義の敗北を目撃した。植民地主義と帝国主義はも
はや存在しない。強制収客所(グラーグ)はその扉を閉じ、ア
パルトヘイトはその力を失った。たしかに、いまでも狂信的な
人種差別主義者はいる。しかし、人種差別はもはやおおやけに
は許容されない。それは実に、かつては法であった場所におい
てさえ、いまや違法である。人権闘争は、とくに若者たちにと
って、世俗的な世界宗教のようなものとなった。難民のための
病院で、祖国を失った人びとの収容所で、傷つけられた人類が
救いと連帯とを緊急に必要としている場所いたるところで、わ
たしたちは若者と出会う。
無関心と闘うことが至上命令
 これは、無関心に対する闘争が決定的勝利をおさめたことを
意味するのだろうか?防衛手段をもたぬ者たちにとって、無関
心はもはや脅威を表してはいてはいないことを?残念ながら、
答えはノンてある。無関心に対する闘争はいまでもひとつの桃
戦であり続ける。それは日々わたしたちに訴えかける。そして
、新たなる世紀が民族と民族との歩み寄りを追求するとき、こ
の闘争こそがその主導権を握らねばならない。
 ユダヤ人としてわたしが後ろ盾とする聖書の伝統は、わたし
たちに神はその被造物とは決して隔たっていないと教えている
。神は神であるがゆえに、無関心をのぞいたすべてである。神
は神であり、人間はその被造物であるがゆえに、人間は無関心
をのぞいたすべてとなりうる。
 ユダヤの律法や教義の注解を集めた書、タルムードの断章の
多くはその美しさゆえに感動せずには読めないが、そこには、
人間の探求と生命における神の積極的な関わりが描かれている
。神は人間の苦悩に心動かされるのと同様に、その願望にも心
動かされる。神は人間の祈りに耳を傾け、その夢に入り込む。
 エルサレムの神殿が破壊されるとき、神は涙を流す。その涙
のひと粒ひと粒が、わたしたちの涙とまざりあう。神は国を追
われた自らの子たちのあとを追う。その子たちと同じように、
わたしたちのだれとも同じように、神は解放を待つ。その解放
は全世界的なものとなるだろうし、また全世界的なものでしか
ありえない。そして神が人間の苦悩に心動かされるのと同様に
、人間もまた神の苦しみに対して、そしてまた、いやそれ以上
に、同胞の苦しみに対して心動かされるところを示さねばなら
ない。これは、人間どうしの関係において、悪に対する無関心
は善の敵であることを意味する。なぜならば無関心は、人間の
尊厳を指し示し、深めうるものすべての敵だからである。極端
な場合には、無関心はその主体と対象とを蝕む。無関心の虜と
なった者は、もはや外側の世界も、内面の宇宙も見ることがな
いだろう。もはやなにも目にはしないだろう。そうなれば、無
関心はただ罪であるばかりでなく、罰ともなる。他人の死に対
する無関心は、遅かれ早かれわたしたちを自分の死にも無関心
とするだろう。どんな共同体でも、その共同体の窮乏と苦痛と
に無関心であろうとすれば、しまいには自分たちの共同体のそ
れにも心動かされなくなるだろう。生者の無関心は、その人間
の耳と口をふさぐ。つまりその人間を、よき驚きであれ、それ
ほどよくない驚きであれ、存在の驚きに対して閉ざされたもの
とする。
 だからこそ無関心と闘うことが絶対的な至上命令となる−−
わたしたちの内部で、そしてわたしたちの周囲で。わたしたち
のなかのある者にとって、これは一瞬たりとも忘れえぬ一種の
脅迫概念となった。どこでもわたしの話に喜んで耳を傾けてく
ださる人びとのいるところで、わたしが何年も前から繰り返し
てきたことを、ここで言ってもよいだろうか?愛の対極にある
のは憎しみではない。無関心である。美の対極にあるのは醜さ
ではない。無関心である。知の対極にあるのは無知ではない。
それもまた無関心てある。平和の対極にあるのは戦争ではない
。無関心である。生の対極にあるのは死ではない。無関心、生
と死に対する無関心である。
 無関心とどう闘えばいいのか。わたしたちは教育によって無
関心と戦い、思いやる心によって、そのカをそぐ。もっとも効
果的な治療薬?それは記憶、いついかなるときでも記憶、であ
る。
 以上が、新たなる世紀の到来を−−もしかしたら誕生するか
もしれない新たなる人類の到来をも−‐ともに待ちながら、目
撃者としてのわたし、ユダヤ人としてのわたしが、日本の友に
伝えたいことである。わたしたちはすでに知っている。ひとつ
の民族が苦しむとき、他のすべての民族もそれに傷つくことを
。そして、ひとつの危険がある共同体を脅かすとき、目標とな
っているのは他のすべての共同体であることを−−だからこそ
、もはや恐怖のなかではなく、苦悩や欠乏のなかでもなく、ご
く単純に希望のなかで、たがいに歩み寄る時がきているのては
ないだろうか?
------------------------------------------------------------------------
無関心 -- indifference --
清けき空の
月星は
去年と変わらず
あらたまるは人のこころ
にほんブログ村
元旦の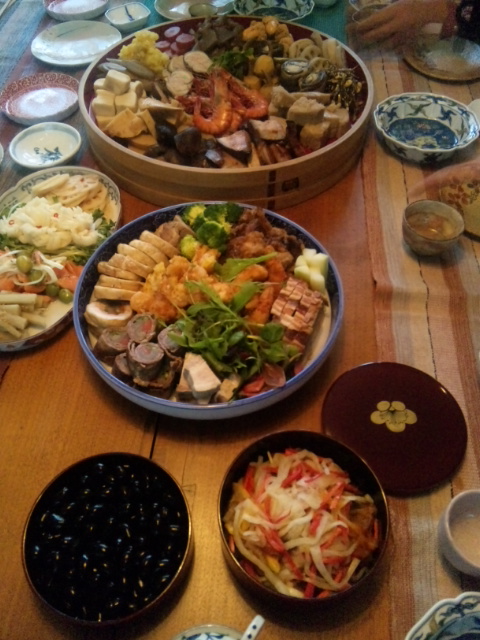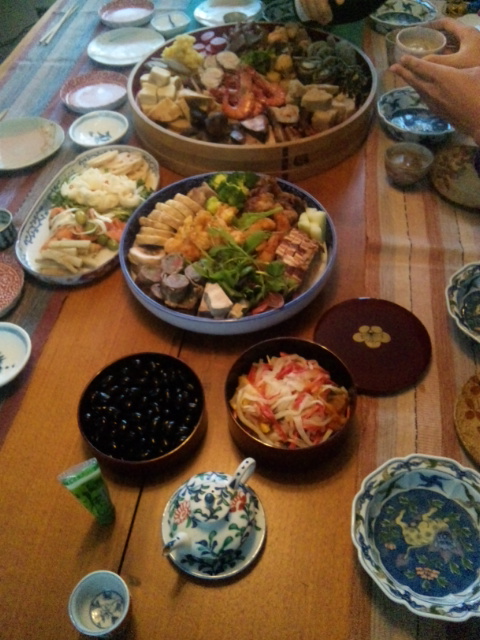 恒例のおせち。
29日 忘年会で泥酔。
30日 二日酔いながらも煮物がんばる。
31日 3時までにおせち完了。手毬寿司をつくる。詰めて配って片付けて。
    22時から近所の神社のお神酒くばりをお手伝い。元旦1時半にギブアップして帰宅。
へろへろ。
初夢はお仕事で失敗する夢。
2011年の幕開けはこんな感じ。
今年もどうぞ宜しくお願いいたします。